Valkyrie Precision Elite BBs
100% Positive Feedback and now Endorsed by RIFT Airsoft (Cambs & Oxon) – Try Them For FREE !

PREVIOUSLY VOTED BEST WOODLAND SITE IN THE UK  
Many people (more than 300) are beginning to independently test Valkyrie Precision Elite BBs against their favourite brands and discovering just how consistent they are…
Influencial people with years in the industry find them more consistent and the more consistent your BB is the more you hit the spot you are aiming for!
As of today (23/05/20) we have had nothing but 100% positive feedback.
DON'T BELIEVE US OR ANYBODY ELSE…
JUST TRY THEM YOURSELF FOR FREE
Enjoy!

Valkyrie (væl'kieri) from old Norse valkyrja
"Chooser of the Slain"
From Ordinary to Operator in Just One Mag of BBs…
Buy one pack or buy bulk packs and save money on our amazingly consistent and accurate BBs.
If you haven't tried them yet then order a FREE "Maggee Baggee" of BBs and compare them for yourself.

I have to say I was impressed. Performed better than the BLS 32's which is a huge bench mark. Love the fact you're UK based etc
Now For Sale
BuLK & CLUB PRICES TOO!
THE VERY BEST BBs – PRECISION & CONSISTENCY BY DESIGN
We spend a small fortune upgrading and honing our RIFs to get them as accurate and consistent as possible yet forget that the choice of BB also is important to achieve that same harmonious goal…
Massivley Positive Feedback
As of today (23/05/20) we have had nothing but positive feedback from people testing Valkyrie Precision Elite BBs for FREE…
0.20g – Pistol test against. ASG Cursed 0.20g. I fired 20 bbs of each from the same mags both full of the same gas. Your valkyrie bbs knocked the ASG cursed out of the park. Every shot was crisp and glided straight for the target not a single drop.
 0.25g – AEG test against. Swiss Arms platinum series 0.25g. Again I could not put a fault to your bbs, they are more accurate and drop off at a further distance making cleaner target hits at further away shots.

The 32s are simply awesome and can only be described as "Magical"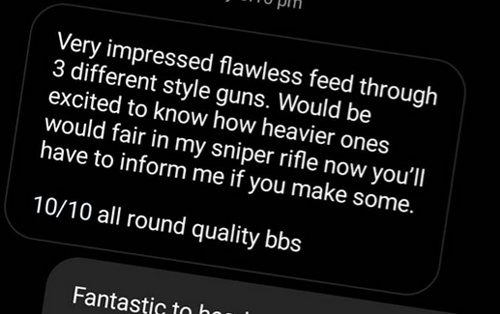 Just wanna say the bbs i received from you are amazing. i was really impressed with the high quality of them, and the consistency of the weight. i noticed major increase of accuracy compared to my previous brand of bb which i have been using for years.
I noticed a bigger difference in my lvoa dmr range had increased and accuracy was again better once I play more with the hop and my scope I hope to improve that again.
they're really brilliant I was using them in last game…
have tested them and I have to say they are fantastic and have noticed a massive difference compared to my old bbs I use.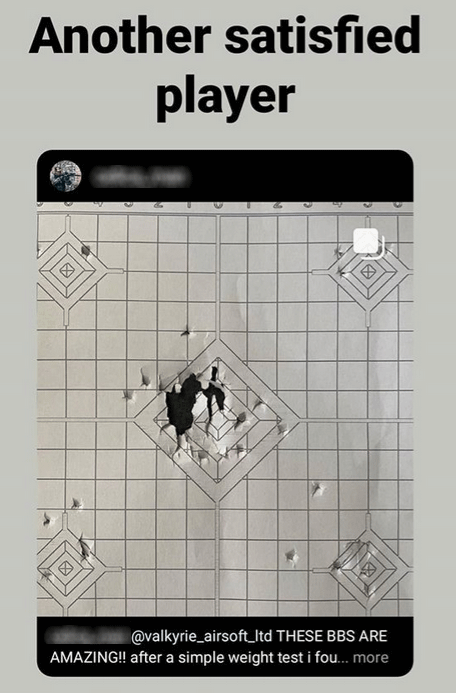 The team have not only trialed them in our cqb range  but also in gardens and fields.
The main feedback point that was concluded was that the consistency of flight between individual bb's were much closer that valken and specna in both close and distant modes.
The grouping that this produced especially on 3 round burst showed especially on the attack sense and paper targets on the indoor range that 3 bb's would go through a single hole more often that the other brands.
The whole team are impressed with the bb's and will more than likely run these as our preferred brand.
What I am pretty impressed with is the inside of the BB … I split 4 of them, 1 squashed one,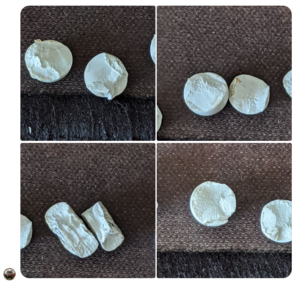 and 3 new ones. all look solid on the inside as following photos will show. Not a single bubble or halo in them that I could see. 
.25g pretty please the trial bags where amazing more accurate than the brand I currently use
Amazing bb's which really make a huge difference and great customer service!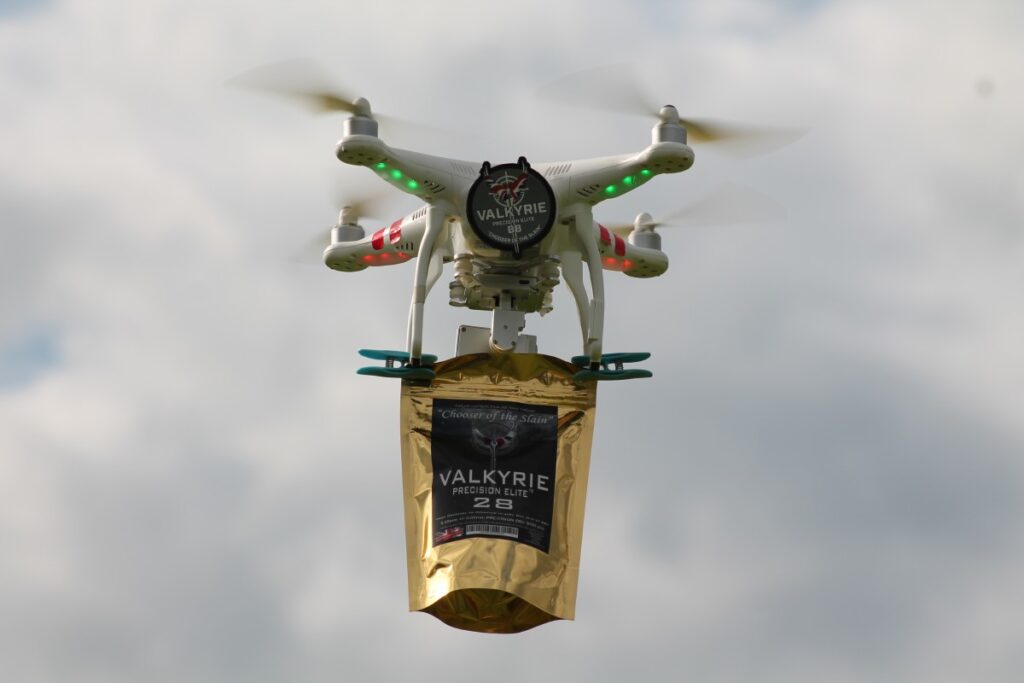 CONTACT
info@ValkyrieAirsoft.co.uk
We are so confident that you will love the difference in consistency, precision and accuracy of our BBs we are happy to let you try them completely FREE 🙂
Simply pay the £1 postage and packing and we'll send you a couple of "Maggee Baggees" of your preferred weight to try for FREE.
Shoot a mag of your normal BBs and then a mag of Valkyrie Precision Elites and simply let us know what you think?
Thanks!
Subscribe
Join our Monthly newsletter for sales & Updates
The Valkyrie Story from the founder of Valkyrie Airsoft
 Valkyrie Precision Elite BBs came about for three reasons:
Firstly, Novritsch saying he had some BBs made for him
Secondly, I had some ideas on how BBs could be made to shoot consistently.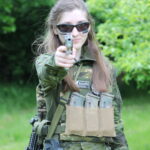 Thirdly, Valkyrie, my daughter, wants to be an actor and, given the average UK actor earns just over £5,000 a year obviously needed some other income to help her through acting school and through life and what better than to earn a crust through a sport she enjoys! 😉
So I managed to convince a couple of manufacturers that my ideas might be valid and to cut a very long story short today after months of testing BBs and changing recipes we currently have 4 great BBs being manufactured which will be followed by more as we get those right too!
There are, essentially, just a couple of simple "secrets" to getting more hits in an airsoft skirmish and they are:
Make sure your gun is shooting consistently
Make sure your BBs are shooting consistently
People seem to spend a lot of time and money on the first "secret" by upgrading barrels, springs, hop up units, buckings, nubs etc.. but then give little or no thought to the second one.
It's no good spending, sometimes, hundreds of pounds on gun improvements if the BBs you are using aren't consistent coming out of that gun…
If BBs come out of the barrel with a bias spin, often caused by air bubbles or heavier ingredient clumping, then they will fly in an unpredictable manner and they will not be consistently arriving at the same place. This makes it difficult to adjust for and thus hard to hit your target without wasting a whole load of BBs.
Conversely if more of your BBs consistently arrive in the same place you hit more targets and use less BBs in the process.
This is the simple "secret" behind Valkyrie Precision Elite BBs, they shoot more consistently than other BBs and so hit the target you aim at more often.
Both daughters "Valkyrie" & "Belladonna" play airsoft and run the business. Our philosophy is to offer you the chance to try Valkyrie Precision Elite BBs for FREE so that you can see for yourself if they shoot better than the brand you currently use.
Every gun's set up is different potentially so we can't 100% guarantee it so we believe it's better that you compare for yourself than accepting any marketing hype from us! 🙂
Many people are already finding that our BBs are remarkably more consistent than the brand they currently use and often find that our 0.20g shoot like other 0.25g brands, our 0.25g like 0.28 and our 0.32g like 0.36g.
Already one highly reputable and well considered "veteran" of the industry, after 25 years using, swearing by and selling one well known brand of BB now loves Valkyrie Precision Elites and we are sure more will follow.
We think you'll get the same great results too if you try them.
I believe if you like our BBs then you'll probably buy them and we are going to try our very best to sell them at a price point less than you are paying already wherever possible.
The name "Valkyrie" comes from the old Norse that means "Chooser of the Slain" and we believe that most people who use our BBs can choose who to hit more often with them!
We believe in over delivering and so, for example,  we say "3,000 pcs" on a pack and when it comes to BB weight we believe in being over the weight rather than under so that you get a more stable BB for less money… I also like to say at Valkyrie Airsoft "We aim to please" !
So why not try Valkyrie Precision Elite BBs Yourself For FREE and make your own mind up?
We hope you'll find your RIF shoots remarkably better than before, as over 300 early testers are finding, but if it doesn't then thanks for trying!
Heavy BBs are being developed and will be announced as soon as we feel they are better than any other BB out there…